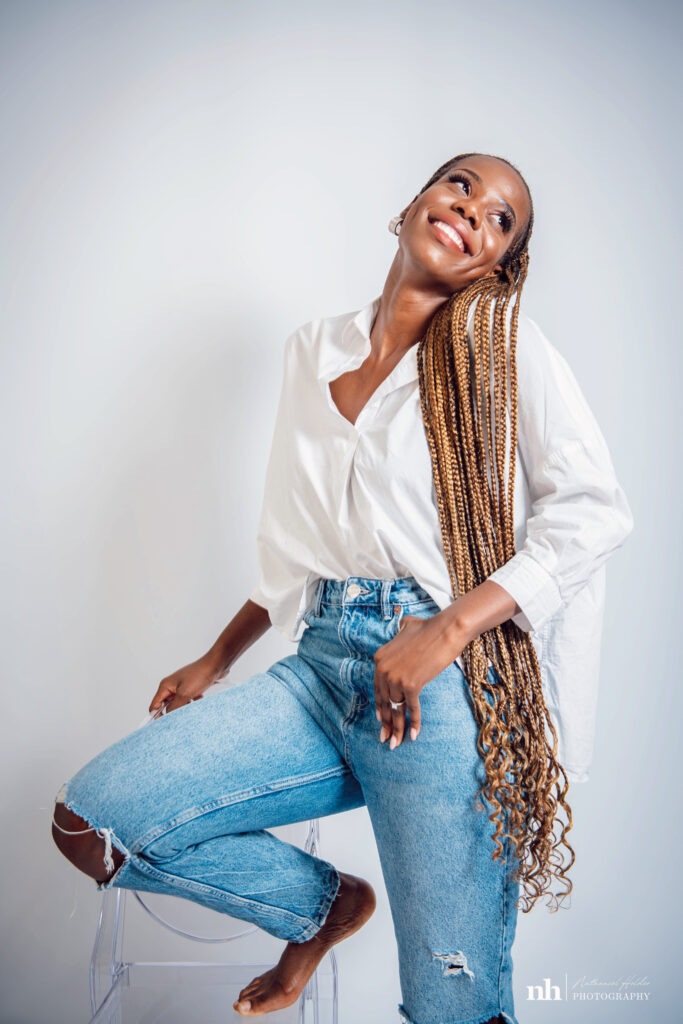 Hello, world! Welcome to my new blog.
This is me, The Fanciest Nancy you will ever meet. I'm a Congolese-Canadian living the London (UK, not Ontario) life with my husband of almost 4 years.
I first started blogging back in 2013 when I still lived in Toronto because I wanted to share my love of food and hosting with the world. In 2015, my amazing photographer friend Jodianne Beckford convinced me to add a fashion element to my blog, an easy task because she took the best photos of me every time we shot together. I loved blogging. It allowed me to build a great little online community and an even better in-person community when I hosted my first in-person event in 2017.
In 2017, I moved to London to study law. I managed to publish here and there while getting accustomed to the law school workload. By the end of the year, I had a new job and split my time between London and Kinshasa. Between work and school, I wrote a farewell blog post in January 2018 to my online community and paused the blogging chapter of my life. It wasn't just the blog that was paused. I took an unintentional social media hiatus as well, which ended up being a Godsend.
Now, five years later, I am crawling my way back to your interwebs. I've been here a few times, writing and re-writing my welcome back blog post. I had initially planned on relaunching in January 2020. It was a new year, a new decade, and the new me was ready to take the world by storm. I ended up having to fly back to Toronto for a visa application, and by the time I came back, a certain panoramic was already sweeping the world, only to lock us down the following month.
With all that said, I welcome every single one of you back to The Fancy Nancy. My blog, my little slice of the internet. I have sincerely missed blogging and sharing things that spark joy with you guys. The immense pleasure and butterflies in my belly as I type this article are battling against the voices in my head telling me to delete it. It's a little intimidating coming back. I keep thinking, do people still read blogs? Would people care that I have relaunched my previously defunct URL? Instead of letting the negative thoughts take over, I choose to take all the necessary deep breaths and reboot. Ultimately, writing is my favourite outlet, and getting to share it with the world is a sweet privilege. If I manage to inspire a few of you by doing what I enjoy, that's just icing on a very fancy cake.
What to expect from The Fancy Nancy
A lot has happened in my life since I last published a blog post in January 2018. I worked in Congo, got married three times, finished law school, became a Londoner in training, moved into my first and second homes with my husband, and made new friends and priceless memories. I'll try my best to catch you all up on all of those life changes.
As before, I will continue to share my favourite things in the world, food and hosting tips. I had a whole year and three lockdowns to create and test many recipes, I can't wait to share them with you all. I'm also looking forward to decorating our apartment, discovering our neighborhood, and hosting fabulous dinner parties and brunches.
While working in Congo, I fell in love with African fashion and designers. I am not your typical fashion girl, but I will be using my platform to highlight my favourite black and African designers.
In addition to that, I have developed a new love for working out, and I can't wait to share what I have learned (and all the cute workout outfits) with you guys. Hubby and I were training for the 2020 Paris marathon, which was unfortunately canceled because of the pandemic. It did however make us avid runners and I can't wait to share all my running tips with you all. My career has also evolved over the past years. I've learned a lot and will be sharing the peaks and valleys with you guys.
The most important new development is that you will soon be able to find me on YouTube. As a heavily camera-shy introvert, this is a brand new challenge (emphasis on the challenge) for me, but I am facing it head-on and hope you'll support me by subscribing to my channel here.
Lastly, I am embracing my Frenchie roots by having most of my blog posts available in French and English. Though I've spoken English since I was four years old, French has remained my favourite language. It's also exciting to make the blog more accessible, especially for my readers in Congo and other parts of the world whose primary language is French.
And just like that, The Fanciest Nancy you'll ever meet is back to take up a little bit of space on your interwebs. Grab a cup of tea and make yourselves comfortable.